1986-03-31 New Conference Centre, Brighton, England, UK/Source 1
From DM Live - the Depeche Mode live encyclopedia for the masses
Jump to navigation
Jump to search
Notes
A good audience recording of the second concert of the 1986 Black Celebration Tour. This concert is notable for having the only circulating recording of Here Is The House performed during this tour; presumably, the first concert of the Black Celebration tour at 1986-03-29 Apollo, Oxford, England, UK also included the song in the setlist, but no recording from that date currently circulates. The song was dropped by the next concert on April 2nd at the RDS Stadium in Dublin; it was later performed during the 1990 World Violation Tour as an acoustic guitar version with vocals sung by Martin. A very short soundboard snippet of Here Is The House (as well as other tracks from the usual setlist) performed during the tour rehearsals can be heard here: 1986-03-00 Black Celebration Tour Rehearsals, Nomis Studios, London, England, UK.
There were some keyboard problems during It's Called A Heart and Everything Counts. Black Celebration is mostly missing (only Dave saying "Good evening Brighton" at the end of the song is present on the tape), Fly On The Windscreen and It Doesn't Matter Two are missing the first few seconds, and "Christmas Island", "A Question Of Time", "Photographic", "People Are People", "Boys Say Go!", and "More Than A Party" are missing entirely.
Revision A, released 2016-02-13: tape retransferred using the Nakamichi Dragon for better quality (improved bass and treble response) to celebrate Black Celebration's 30th anniversary.
Listen
You can listen to this entire recording below.
Track list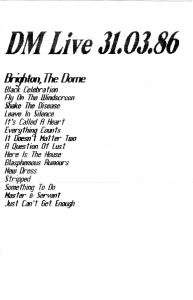 Lineage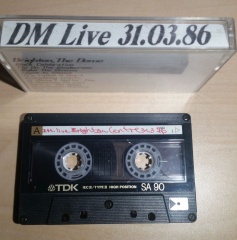 Incomplete audience recording
Lineage: unknown taper and equipment -> unknown generation -> TDK SA 90 high position cassette, 1987 - 1989 stock -> Nakamichi Dragon cassette deck, serviced and upgraded (details) -> Blue Jeans Cable LC-1 8-foot RCA cable -> Creative Sound Blaster ZxR (RCA Line In) -> Adobe Audition CC 2015 (WASAPI 32-bit / 88.2 khz) -> sped up 2.0%, normalized to -0.1dB and any DC bias removed -> WAV (32/88.2) -> tracked using Audacity 2.1.1 -> WAV (32/88.2) tracks -> FLAC 16-bit 44.1khz using FLAC 1.3.1 64-bit (level 8 compression) and foobar2000 v1.3.9 with its Resampler (SoX) component v0.8.3 (best quality), dithering enabled
Transfer: DMLiveWiki
Cassette tape photos, tape inlay scan, and auCDtectTaskManager log included
Download