2009-10-13 Explanada del Estadio Monumental, Lima, Peru
From DM Live - the Depeche Mode live encyclopedia for the masses
Jump to navigation
Jump to search
Notes
This concert was added to the tour dates list on April 29th.
Here is the diary entry for Depeche Mode's official tour blog:
Hey, everyone!

Unfortunately, there won't be a blog for Lima tonight because I'm out of commission - caught something dastardly so taking some much-needed bed rest. As you can see, I'm currently nestled to the 4 things that have grown quite dear to me while on bed rest: Blackberry, nasal drip, Halls and Emergen-C.

See you in Santiago (hopefully in better health)!

author: MM
Feedbackers was the support act.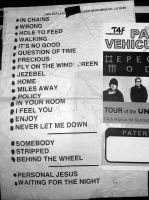 Set list
Set list info obtained from the Home forum.
Sources
Source 1 is RolandX1's very good audience recording. This is the MP3 256kbps version which has ample dynamic range.
Source 2 is RolandX1's very good audience recording. Unlike Source 1, this version seems to have no dynamic range and can be tiring to listen to, with somewhat shrill treble and overpowering bass.