2017-03-26 BBC 6 Music Festival, Barrowland Ballroom, Glasgow, Scotland, UK
From DM Live - the Depeche Mode live encyclopedia for the masses
Jump to navigation
Jump to search
| | |
| --- | --- |
| | This concert page is missing a ticket stub. If you possess a ticket stub from this concert and wish to contribute a high quality scan or photograph, please feel free to add your ticket stub as an image file and embed it within this article, or contact us. |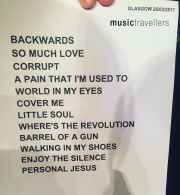 Notes
On February 21, 2017, it was announced that Depeche Mode will be performing at the BBC 6 Music Festival on March 26.[1] The venue held about 2000 people. The performance was between 21:00 and 22:15 local time. This streamed live at: http://www.bbc.co.uk/events/e368gw/live/c6fbj5
Martin Gore did an interview with BBC's Lauren Laverne shortly before the concert. Dave Gahan said on BBC Radio 2 two days later: "Oh my gosh, [this concert] was a lot of fun. We've been doing a few of these small little sets: one in Zürich [sic], we did one in Berlin... This [one] was by far the best. I mean, to go and play in Barrowlands again, well first of all, apparently we played there in 1984? But it was steaming, in every way. It was steaming literally because it was so hot in there, but the crowd was just... they loved it. And it felt so good. We were all looking at each other on stage a bit, kind of like "Well this is a lot of fun, innit?"" He also told 'Loud & Quiet' magazine: "It was fun to do that show last week, which was maybe an hour long – much shorter than the two-hour show that we usually do. I got a couple of texts from Bobby Gillespie that said: "perfect time." For performing, an hour is the perfect time." He also remembered in 2021: "I had forgot how much that place moves. I mean literally moves, once it gets going, that whole place moves."
Andy Fletcher told The Skinny: "There was a funny thing, before we went on, when all of us realised that we didn't know the setlist. We all panicked; are we doing 'Enjoy the Silence' or not? It was just one of those things, but there was a big rush where the crew had to re-print all the setlists until we finally got one. There's this really sweaty dressing room, and it's supposed to be really relaxed before you go on… but if you don't get the thrill [of playing live] you should be retired."
James Lavelle did a DJ set before Depeche Mode's performance. Depeche Mode's former support act Nadine Shah was present, as well as Labour politician Tom Watson.
Set list
Set list info obtained from the Home forum.
Sources
References