2017-03-17 Funkhaus Nalepastrasse, Berlin, Germany
From DM Live - the Depeche Mode live encyclopedia for the masses
Jump to navigation
Jump to search
| | |
| --- | --- |
| | This concert page is missing a ticket stub. If you possess a ticket stub from this concert and wish to contribute a high quality scan or photograph, please feel free to add your ticket stub as an image file and embed it within this article, or contact us. |
This concert was announced on Telekom Street Gigs on March 1st; press release.
There was a live stream on Twitter and YouTube on March 17th at 20:00 CET, the day of the concert. The YouTube livestreams consisted of a 360-degree and a non-360 degree version, both available in 1080p, but the streams were not stable. Reportedly, the video and audio quality were poor; the Twitter webstream (non-360 degree) has very high bitrate video and well-encoded audio, so despite it being 720p, I feel that it is likely the superior version.
Telekom has since then re-uploaded a 1080p non-360 degree stream, and a 4K resolution 360 degree stream on YouTube, which will stay online until June 30th 2017:
The Twitter 720p livestream video is available at Source 1, and the audio by itself, split into tracks, is available at Source 2. Both are downloadable.
Some noteworthy points from this concert, not necessarily an exhaustive list:
Daniel Miller and members of Rammstein were in attendance.
Dave Gahan told Ilka Peemöller for DPA afterwards (translated):
"I suddenly became very scared beforehand, that was in my dressing room about 30 minutes before the show. I just thought: 'Oh, God, I know this feeling, I do not like it!' [...] I needed two or three songs until I started feeling comfortable. I had to get in the moment somehow. I had fun with our opener 'Going Backwards', but just at the beginning I was still nervous. Once I opened, it will flow, then everything is possible, then it becomes fantastic, then I am... yes, how am I then? Like an overpaid stripper. [Laughs]"
Martin Gore told Keys Magazine afterwards (translated):
"The gig was a different experience compared to a stadium concert, especially since we haven't been on stage for three years. It felt a little more frightening for me, just because everyone is so much closer. These [special showcase] gigs are broadcast live now. This is a part of modern promotion work, but that was not done in the old days."
They also told Spiegel:
Dave Gahan: "It was all lit up for TV as well as to be streamed, so there was way more light on stage than what there normally is. So I was sort of looking for some shadow and there was none, I realised after a while. There was nowhere to hide."

Martin Gore: "It always takes a while for fans to catch up, they need to hear the new songs to know them. And also, I felt that the audience [at the Funkhaus gig] wasn't as representative an audience as we usually get, because when you looked out, there weren't very many young people. And that's one of the things that always amazes me when we play live: you look down the front, and there are teenagers."
Set list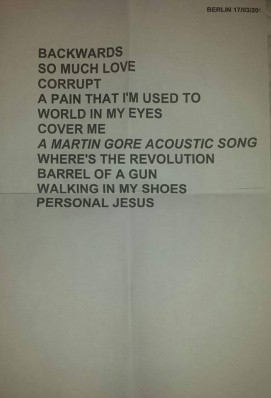 Set list info obtained from the Home forum.
Sources
Source 1 is the 720p Twitter livestream video capture.
Source 2 is the soundboard audio demuxed from the video.
References