2018-07-23 Waldbühne, Berlin, Germany
From DM Live - the Depeche Mode live encyclopedia for the masses
Jump to navigation
Jump to search
Notes
This concert was announced on November 24th 2017.
At the start of the show, Dave's teleprompter wasn't working and he messed up some lyrics of 'Going Backwards'.
Anton Corbijn was in attendance, and a "notice of filming" was posted at the venue for this date and for the final night of the tour.
According to Pollstar, this show and the consecutive show were sold out (43,783 people total) and the total gross sale was $3.8 million.
Support act: Deutsch Amerikanische Freundschaft
Set list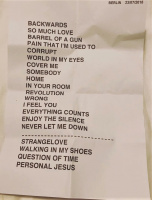 Somebody (*)
Home (*) (full-band)
Happy Birthday Martin!
Strangelove (*)
Set list info obtained from the Home forum.
Sources
Source 1 is Ronny's very good master audience recording.
Ticket scan