2018-07-25 Waldbühne, Berlin, Germany
From DM Live - the Depeche Mode live encyclopedia for the masses
Jump to navigation
Jump to search
Notes
This concert was announced on November 24th 2017.
Anton Corbijn was in attendance, and a "notice of filming" was posted at the venue for this date and the previous night at this venue.
Depeche Mode's cover of John Cage's 4'33" was recorded backstage on this date.
According to Pollstar, this show and the previous show were sold out (43,783 people total) and the total gross sale was $3.8 million.
A very good audience recording from this concert exists, but is not made available on the wiki because a commercial recording is available (Spirits In The Forest / Live Spirits).
Support act: Deutsch Amerikanische Freundschaft
Set list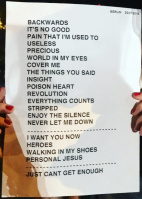 Set list info obtained from the Home forum.
Ticket scans