2009-05-06 Rockhal, Esch-sur-Alzette, Luxembourg
From DM Live - the Depeche Mode live encyclopedia for the masses
Jump to navigation
Jump to search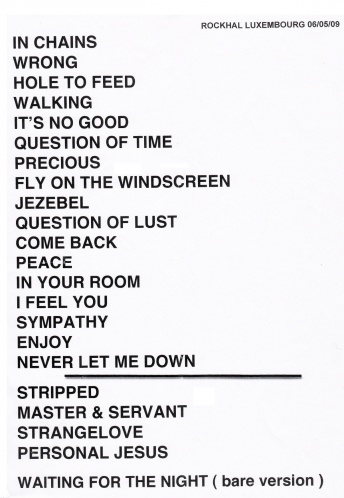 Notes
The first concert from 2009-2010 Touring The Universe. This was the first out of two times In Sympathy was played live, with the second and final being from the very next tour date: 2009-05-10 Ramat Gan Stadium, Tel Aviv, Israel
The show (and the rehearsal the day before) was recorded by Live Here Now, but never released.
Here are the diary entries for Depeche Mode's official tour blog:
Last night's show was so hot and so humid it actually started raining inside towards the end. Or maybe the venue's piping needs checking.

I'm sure there must have been some first night jitters doing the rounds, but they weren't showing. Everything went off seemingly without a hitch. The band were fantastic. The set list was extremely well paced, with lots of nice surprises thrown in, including a new version of "Personal Jesus", which will surprise if not everyone, then at least those who didn't catch the band's recent US and UK TV appearances.

Visually the show looked gorgeous. This tour might just be one of the best looking tours I've ever seen. All in all, I was very impressed. Judging from the crowd, I wasn't the only one. Watching the "Never Let Me Down Again" wave from the back, it really didn't seem to matter whether there was six or sixty thousand fans - it was simply stunning!

Motor, who'd done a real good job opening the show earlier, closed it as well with a performance at the "Start Of Tour/After Show" party in another part of Rockhal. As I left for my hotel to catch some Z's, I stopped by to see how the load-out was going. You will never fully grasp the logistics of a show like this until you watch them take everything down and load it onto the trucks. It's a basically a million piece jigsaw puzzle weighing god-knows how many tons that have to be put together, taken apart and boxed up - all on a daily basis. Fascinating.

author: Peter
Luxembourg marked the first show of the European leg of Depeche Mode's Tour of the Universe. It was also the fastest-selling show in Luxembourg history. Not bad for such a tiny place!

Despite the weather, 5,400 fans from all across Europe made the trek to the Rockhal Venue in Luxembourg city. We organized a quick meet and greet for a few lucky winners who got to take a memorable group photo with the guys before the show.

I managed to get myself situated between the stage and the barricade, sharing space with the legendary Anton Corbijn (who was taking photos of the concert), and took some shots of the live set. I hope my amateurish photographic attempts will give you a glimpse into Depeche Mode's 2009 live experience.

It was an emotional moment for many of us, including the band. After 6 weeks of bi-coastal and transatlantic rehearsals, Depeche Mode was finally able to unleash their musical fury to Europe.

For those of you who bought tickets to one of our upcoming shows: you're in for a real treat. 20-foot tall Dave, Spaceman Andy and Head-Banging Martin. I won't divulge too much. You have to be there.

After an amazing warm-up show, we celebrated with friends and family and boarded our flights to Tel Aviv!

The guys are in the middle of a press conference at the moment at the Hilton Tel Aviv. It's the first time for many of us to come to Israel so we're taking in the sights. We're off to Jerusalem to absorb the local culture after this!

Until next time, Shalom to you all!

author: MM
This was only 1 of 3 concert from this tour (the others being Leipzig and Berlin) where the screen projection to 'Strangelove' (showing a woman licking another woman's toes) was shown in its entirety. In other cities, the screen either turned to red completely after about two minutes, or it got a red glare, making the footage almost indistinguishable. Andy Fletcher explained in August 2009 that the band debated a lot as to whether the foot fetishism was "OTT," over the top. "We sort of are quite risqué. But it's different now. We do have families. Dave has an 8-year-old daughter. Martin has kids. In the end we've sort of compromised [and cut out the naughtiest bits]. But to be honest, the main reason for the compromise is that during 'Strangelove' people were watching the screen and not watching us! But don't worry, the first two minutes [of the video] is good enough."
Official video blog:
Set list
Set list info obtained from the Home forum.
Sources
Source 1 is motr1912's brilliant audience recording.
Source 2 is robertmode's good audience recording.
Source 3 is a good audience recording.
Ticket