2017-07-15 Otkritie Arena, Moscow, Russia
From DM Live - the Depeche Mode live encyclopedia for the masses
Jump to navigation
Jump to search
Notes
According to Billboard, the attendance was 36,173 people and the gross sale was $2,704,614.
Allegedly, one of the T-shirts that Dave fired with the T-shirt gun during Never Let Me Down Again landed on the roof structure of the stadium.
Support act: Maya Jane Coles.
Video
Set list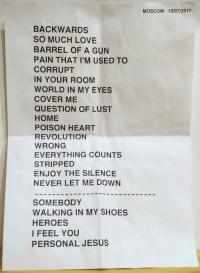 Set list info obtained from the Home forum.
Ticket