2017-04-21 Global Spirit Tour Rehearsals, S.I.R. Studios, Los Angeles, CA, USA
From DM Live - the Depeche Mode live encyclopedia for the masses
Jump to navigation
Jump to search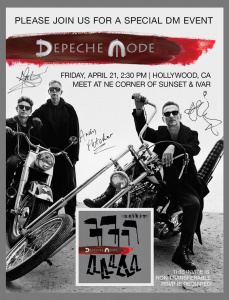 Notes
A fan named Jon Deak uploaded this flyer (see right) in Facebook group 'Depeche Mode Devotees' on Wednesday April 19, 2017. He removed the address before uploading it. He and about 40 other people received an email from Columbia Records containing an invitation to attend this secret event. The invitees had won the invitation because of their participation in the pre-sale of the concerts in Los Angeles later this year. It was not revealed what the event would entail, and the invitees had to turn in their phones before being taken to another location in Los Angeles. As it turns out, they had to meet at Amoeba Records on Sunset Blvd from where they had to walk to S.I.R. studios. Liz Dwyer a.k.a. LosAngelista got to enter the studio shortly before the other fans, and as she explains in this video, besides meeting the bandmembers beforehand, which was filmed by webmaster Daniel "BRAT" Barassi, she also got to watch the first two songs being performed before the other fans came in. That video clip by Barassi was uploaded on Depeche Mode's Facebook page on April 28th here.
A first group containing fans got to watch songs #3 till #13 being performed. One of them, Rob Rohm, reported the following shortly after the event:
"Depeche Mode rehearsal with less than 50 people. There was a photographer/videographer. [My wife] and I were up against the small stage in this tiny Hollywood rehearsal studio with Martin Gore directly in front of us, 2 feet away. Dave Gahan was about 8-10 feet away from us. They performed the following songs that I can think of off the top of my head [setlist copied below, ed]. I saw the entire set list [sheet]. Management didn't let us stay for whole set but the fans in Europe are in for a treat. The set list contained 22 songs. One thing that was really fun to see was Dave Gahan sitting at the drum set while Martin and Peter performed Question of Lust. Dave was goofing around pretending to play drums."
Carshenah Jefferson, a fan who got to run the "Depeche Mode Facebook Takeover" that day, also attended the first half of the performance and posted this on Depeche Mode's Facebook page:
"What a perfect way to spend a sunny, 90 degree, Friday afternoon in Hollywood watching Depeche Mode in the most intimate of sessions anyone can ask for. Only 40 or so lucky fans were with me to hear a 10 song set list. Dave's signature moves made everyone scream in delight and the music was crisp and clear. Then the ultimate fan privilege of the whole experience was Dave and Martin allowed me to sing, "A Question of Lust!" As Martin passed the mic around the crowd. When it landed on me, I got to sing the hook and both Dave and Martin was impressed, both gave me a high five and they got to know my name."
Craig DeGraff, another fan who ran the Facebook Takeover the next day, also attended the first half and posted:
"[...] When 'Barrel of a Gun' ended Dave joked "Who let you in here?" as the band launched into 'Corrupt'. This was a song meant to be heard live as Dave's vocals and mannerisms really added depth to the performance. The rest of the set featured hits ('World In My Eyes' and 'Home' were highlights) and several songs from Spirit. It was great to finally hear "Cover Me" live and by mid-song the crowd was grooving to the electro beat. Our time in the studio ended with 'Where's The Revolution' which is sure to become a live staple. It will be fun to hear arena crowds singing the chorus when the band returns later this year. [...]"
Fan Bryan Do posted nine songs of the second half of the setlist here which he had received from invitee Tumara Arnett, with Rob Rohm adding a 22nd song and correcting the setlist order. Bryan writes that after song #12 ('Where's The Revolution') had been performed, the first group of fans were asked to leave, and a second group of people got to watch the band perform the remaining songs. DM's webmaster Daniel "BRAT" Barassi wrote on the HOME forum: "First half: VIP fans. Second half: industry people and friends (including Martyn [Lenoble] and his wife (Christina Applegate)). The setlist on the Depeche Mode Live Wiki looks close. The order might be off, but it looks close to what I witnessed."
Update on April 26th: in the 24 hours after the event, a few invitees would list setlists on social media which all had slightly different orders, and so it was difficult to get the correct setlist order. On April 26th, fan Freddie Morales posted a setlist sheet on his Facebook profile which was dated April 17th, and contained the same songs as performed on April 21st. However, four songs on that sheet were in a different order than the setlist posted below on this page thus far. Since the few fans who listed a setlist tended to post setlists in slightly different orders, it is possible that the setlist order posted previously was incorrect, and the one on the setlist sheet is most likely correct, and thus has been updated.
Dave Gahan told Forbes afterwards:
"We were recently rehearsing actually, and we opened the rehearsal room to a few people, here at SIR in Hollywood. We covered a [David] Bowie song, and I almost lost it. It was 'Heroes'. We just did it, and went into it, and it was really very moving and I felt all kinds of stuff." [...]
Adam Bravin of the band She Wants Revenge (who is a big DM fan and who also supported DM with his band in 2006, see the Support acts page for more info) was also in attendance.
Set list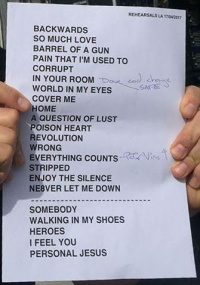 Intro (Cover Me (Alt Out))
Home (*) (full-band)
Somebody (*)
P.S.
Since the info on this page is a conglomerate of various sources, other fan-sites are kindly asked to credit this website when they copy/translate all info from this page.