2017-05-09 Sportpaleis, Antwerp, Belgium
From DM Live - the Depeche Mode live encyclopedia for the masses
Jump to navigation
Jump to search
Notes
In between "So Much Love" and "Barrel Of A Gun", 8,000 fans were waving glowing balloons (to which Dave Gahan commented "a big party"), and the band began playing the 'Happy Birthday' song for Dave Gahan. You can watch it here. According to Billboard, the attendance was 20,195 people and the gross sale was $1,477,132.
Support act: The Raveonettes
Video
Set list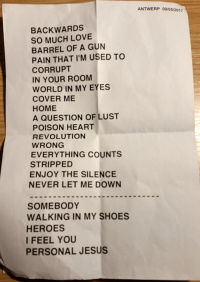 Home (*) (full-band)
Happy Birthday Dave
Somebody (*)
Set list info obtained from the Home forum.
Sources
Source 1 is motr1912's very good master audience recording.
Ticket