2017-05-20 Štadión Pasienky, Bratislava, Slovakia
From DM Live - the Depeche Mode live encyclopedia for the masses
Jump to navigation
Jump to search
Notes
Support acts: F.O.X., The Raveonettes. According to Billboard, the attendance was 30,290 people and the gross sale was $1,710,494.
An excellent in-ear monitor recording of Everything Counts from this concert was uploaded to Clyp. The best available audio (MP3 256kbps) was captured and is mirrored here for your listening enjoyment.
Video
Set list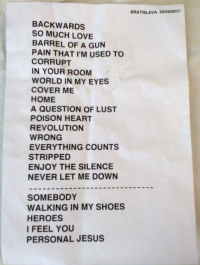 Set list info obtained from the Home forum.
Ticket