2017-06-03 London Stadium, London, England, UK
From DM Live - the Depeche Mode live encyclopedia for the masses
Jump to navigation
Jump to search
Notes
Dave Gahan tripped over a ledge on the middle of the stage during 'World In My Eyes', and as a result his microphone broke and he had to go to the side of the stage to get another one. Because of the delay in getting this new mic working. Martin carried the end of 'World In My Eyes' on his own. At the end of the song Dave went across the stage to Martin and they embraced. Then he jokingly said to the crowd, "Excuse me, I fell. Excuse me." When the song 'Home' had finished playing and the crowd continued to sing the melody of the song, Dave came back on stage and said "You guys are the best!" to the crowd. According to Billboard, the attendance was 65,191 people with $5,263,537 in sales.
Daniel Miller, Anton Corbijn, Andy Franks, Daryl Bamonte, Roger O'Donnell, Brian Griffin, and Rusty Egan were in attendance, as well as several family members of the band.
Support act: The Horrors
Video
Set list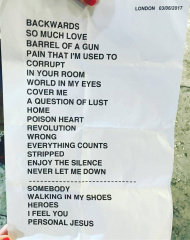 Set list info obtained from the Home forum.
Sources
Source 1 is motr1912's very good master audience recording.
Source 2 is ONE8UNG's good master audience recording.
Ticket