2017-06-12 HDI Arena, Hannover, Germany
From DM Live - the Depeche Mode live encyclopedia for the masses
Jump to navigation
Jump to search
Notes
A second night in Hannover was announced on October 17, 2016. According to Billboard, the attendance of this concert and the previous Hannover concert was 73,050 people with a total of $6,216,182 in sales. As this was the first consecutive concert of this tour, there were some changes in the setlist for the first time this tour: 'Shake The Disease' was played instead of 'A Question Of Lust', and a rare acoustic rendition of 'Strangelove' was played instead of 'Somebody'. 'Heroes' was neither played nor listed on the final setlist sheet, and was not replaced by another song. After 'Personal Jesus', some fans shouted "Heroes!", the usual Global Spirit tour closer to Dave, but Dave Gahan looked at them and pointed at his throat, suggesting that he was unable to perform it that night.
Support act: Algiers
Video
Set list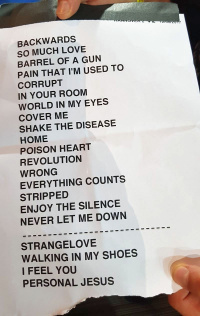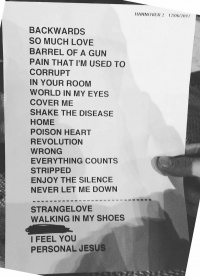 Set list info obtained from the Home forum.
Trivia
During 'So Much Love', hundreds of fans held up heart-shaped balloons.
This was the first time an acoustic rendition of 'Strangelove' was performed live as a Martin Gore solo song.
At the beginning of 'Strangelove', Gore flubbed the lyrics, and live musician Peter Gordeno jokingly began playing the melody of 'Somebody'. Gore commented that they had only rehearsed 'Strangelove' twice, and re-started the song. When Dave Gahan returned to perform the remainder of the set, he said to Gore: "You're the best!".
During the concert, Gahan took a sheet of paper from a fan which read "Christian, could you give me your drumstick please?" and gave it to live drummer Christian Eigner.
Sources
Source 1 is Ronny's very good master audience recording.
Ticket scans