2017-06-27 Stadio San Siro, Milan, Italy
From DM Live - the Depeche Mode live encyclopedia for the masses
Jump to navigation
Jump to search
Notes
According to Billboard, the attendance was 54,488 people and the gross sale was $3,440,506.
At the start of Walking In My Shoes, the video screens had "It's No Good" written on them. During Never Let Me Down Again, Dave could not fire the third T-shirt gun and gave up.
Support act: Algiers.
Video
Set list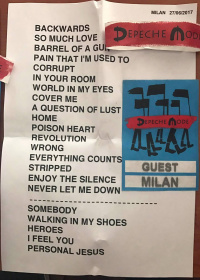 Set list info obtained from the Home forum.
Ticket scan