Love In Itself
From DM Live - the Depeche Mode live encyclopedia for the masses
Jump to navigation
Jump to search
Love In Itself

Song
Love In Itself
By
Depeche Mode
Songwriter
Martin L. Gore
Produced by
Daniel Miller
Depeche Mode
Recorded at
The Garden (London)
Length (mm:ss)
4:00 (7"/single version)
7:18 (12" version)
4:29 (album version)
Tempo
101 BPM
Time signature
4
4
Key
D Minor
Engineered by
Ferg Peterkin
Gareth Jones
Tonmeister
Gareth Jones
Mixed at
Hansa Mischraum
Mastered by
Christian Stegmaier
Design
Martyn Atkins
Town & Country Planning
Illustrations
Ian Wright
Originally released
19 September 1983
Live performances as Depeche Mode
47 times

*

Total live performances
47 times

*
"Love, In Itself" is a song from the 1983 album Construction Time Again by Depeche Mode. It was released as a single on 19 September 1983.
Notes
Dave Gahan and Andrew Fletcher recalled the recording of Love In Itself in an October 1985 interview with British magazine No. 1:
Dave Gahan: "This is the s-s-s-s's track. It had a very soft vocal, with a lot of s's, it sounded awful. I was a bit disappointed with this, it could have been brilliant."
Andrew Fletcher: "We had a lot of problems with the equipment with this one, just trying to get that softness of sound we wanted without it all blurring was a real nightmare. It's one that's always good live, though."[1]
In this video in which the mastering process for the 2019 Singles box sets is explained, a test pressing can be seen that lists the song title 'Cocktail' but is crossed out and replaced by the title 'Love in Itself (4)'.
Lyrics
Love, In Itself
All of these insurmountable tasks
That lay before me
All of the firsts
And the definite lasts
That lay in store for me

There was a time
When all on my mind was love
Now I find
That most of the time
Love's not enough
In itself

Consequently
I've a tendency
To be unhappy, you see
The thoughts in my head
All the words that were said
All the blues and the reds
Get to me

All of the absurdities
That lay before us
All of the doubts
And the uncertainties
That lay in store for us
Songwriter: Martin L. Gore
Publishing Information: ©1983 Grabbing Hands Music Ltd/EMI Music Publishing Ltd. All rights reserved.
Music video
Martin Gore 1983 home demos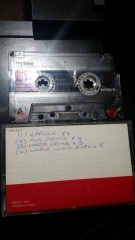 'Love In Itself' is one of several song demos prepared by Martin Gore for the 1983 Construction Time Again album.
Live performances
Main article: Available recordings of "Love In Itself"
Main article: List of dates where "Love In Itself" was played
References